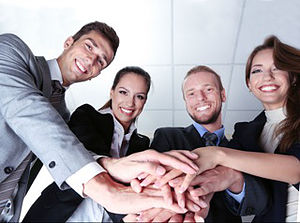 You started out as a mom-and-pop-style retail business. Today, you have three locations, an online marketplace, and further business expansion on the horizon.
So what's the issue?
You're running out of qualified employees to keep the ball rolling on the expansion – you need the right mix of personnel to manage your locations, but right now your staff consists of employees on a transactional basis, which doesn't offer enough stability.
Signs It's Time for More Staff
You know you need more employees, but you dread hiring new people – it's a liability, it's expensive, and it gives you more to worry about.
Therefore, ensure it's truly time for new staff by looking for the following five signs.
Product growth curve: Your products or services have a lively growth curve that your current employees won't be able to keep up with.

Related industries: You're expanding into a related industry and your current staff isn't familiar with that industry.

Existing employee skillset: Current employees don't have the skills or knowledge to handle your expansion plans.

Revenue targets: Your revenue targets are considerably higher than it seems they should be, but you have enough increased revenue to get there.

Employee complaints: Present employees are complaining about increased hours and overwhelming workloads.
So how do you fill your employee positions with top talent while you're actively expanding?
Hiring (and Retaining) Top Talent
Hire people who are excited about your vision: You don't need a grandiose vision, but you need employees who are excited about it and how you're going to achieve it.

Hire people who fit your core values: Weed out people who don't reflect the core values of your organization. Hypothetical situation questions are a great way to explore a candidate's core values to see if they match yours.

Hire for ability, not skill: While some positions require very specialized skills, most do not. Look instead for the ability to be successful by asking questions that showcase problem-solving skills, focus, and determination.
You Have the Essentials: Where Do You Go from Here?
Once you've identified what you need from your business expansion hiring, the next step is to create a process to handle interviewing, hiring, and monitoring the progress of your employees.
Start small – hire only a few new people – and expand further only after honestly assessing the situation and determining that hiring more people is suitable.
For each new employee, Monster recommends an onboarding process, which prepares employees for their job, exposes them to your culture, and ultimately makes it more likely they'll stay.
Business expansion is a huge accomplishment, so don't let the sometimes discouraging job of finding and hiring new employees drag you down. If you follow our tips, you'll find yourself surrounded by people who share your excitement and vision, which will make your expansion easier and more enjoyable.
If you're a growing business, Stellar One would love to help you achieve that growth. Contact us for more information.