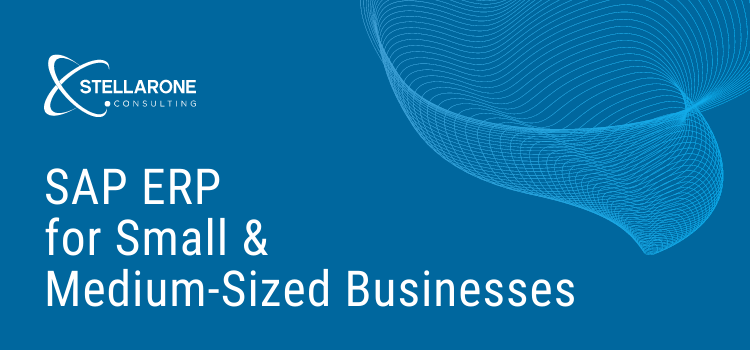 Considering an SAP ERP solutions for your small or mid-sized business? Learn more about SAP ERP solutions and how they help businesses of all sizes:
SAP ERP small business solutions
SAP is often associated as a software that is only fit for large, Fortune 1000 companies. While it is true that some of the largest, most well-known companies in the world run SAP, SAP also has ERP software solutions that are architected and designed for small and midmarket organizations.
Oftentimes leaders at small and midmarket companies may have come from a larger organization that was running SAP and, although they had a great experience with SAP, they think SAP is only built for big enterprises.
SAP Solutions for Big Businesses
The SAP ERP software for big business is called S/4 HANA are federated software packages (ECC or R/3 are the older system names which require an upgrade to S/4), meaning they are a conglomeration of multiple solutions that meet the requirements of a larger organization. They are totally customized from the ground-up, which causes them to be very expensive (millions) and take a long time to implement (years).
SAP Solutions for Small & Mid-Sized Businesses
SAP is the world's leading in ERP software publisher, and that includes solutions for small and midmarket companies:
SAP Business ByDesign
SAP Business One
These systems are fully integrated out-of-the-box. This means all core business processes, like accounting, sales, purchasing, inventory management and manufacturing come integrated from the start, so these solutions are significantly less expensive (thousands) and can be implemented rapidly (weeks/months).
There are over 80,000 small and midmarket businesses running on SAP Business ByDesign and Business One around the world. They are extremely robust, flexible solutions that centralize a company's core business processes into one system which enable efficiency and real-time data to facilitate timely, intelligent business decisions.
About SAP Business One (for small and lower midmarket businesses)
Business One, acquired by SAP in 2002, is an ERP system designed for small and medium-sized enterprises aiming to automate key business functions in financials, sales, purchasing, inventory management and manufacturing, among many others. Some of the reasons why SAP Business One is worthy of strong consideration for small and medium-sized companies:
SAP Business One is fully integrated out of the box, which makes them less expensive, and take far less time, to implement.


SAP Business One is great for any small business that is looking to implement a best-of-breed, easy-to-use ERP software. Every day, we are approached by businesses that have outgrown QuickBooks, or are looking to replace their legacy ERP system.


We recommend SAP Business One to companies that have a simple legal entity structure, and who are on a more steady, consistent growth trajectory.


SAP Business One is best for companies who have 5-100 users with $10-100M in annual revenue.


SAP Business One is best suited in omni-channel eCommerce, wholesale distribution, and manufacturing.
About SAP Business ByDesign (for medium-sized businesses)
SAP also offers ERP systems best suited for medium or mid-sized enterprises. SAP By Design is SAP's cloud-based, subscription ERP software.
Why companies choose SAP Business ByDesign:
SAP Business ByDesign is a suite-in-the-box which is best for midmarket enterprises or rapidly growing small businesses.


We typically recommend ByDesign for companies that have a more rapid growth trajectory, and who have a more complex entity / organization structure, and who are or plan to use M&A as a part of their growth strategy.


ByDesign can scale to thousands of users and has even more robust capabilities which make it well suited for organizations that are growing very quickly and have more sophisticated, complex business requirements.


SAP Business ByDesign is an excellent ERP software for wholesale distribution, discrete manufacturing, and professional services.
Challenges are part of business. Here's how SAP can solve them.
Businesses, both small and large, face a variety of challenges. Regardless of what industry, when it comes to ERP systems, here are the common challenges they face:
Disconnected systems
The lack of integration across the systems you use to run your business cause your processes to be manual and efficient and cause your operating costs to be higher than they should be. Whether it's inefficiencies in your quote-to-cash, procure-to-pay, inventory receipt-to-delivery, Accounts Payable or Accounts Receivable, your processes are not as streamlined as they can be and they cause your company's growth to be stunted.
Lack of access to real-time data
Your leadership team doesn't have access to the data, and the data isn't presented to them daily that should inform decision making. Compiling reports is a manual, time-consuming, error prone process, so it does not happen as often as it should. And by the time you get all of that data together, its outdated already.
Lack of a trusted partner
You don't have a partner who can understand your business, consult you on how to use modern technology, and implement that technology to solve your business challenges. You understand that you will need to successfully leverage technology if you're going to stay competitive, so your lack of a trusted partner impacts your confidence in the direction of your organization.
How much does SAP for small business cost?
For any business, implementing an ERP is one of the biggest investments a company can make. The only reason you buy software is if you're convinced it will help reduce costs or increase revenue. It's critical to know what your business case is if you expect your leadership team to fund a new ERP software implementation. When it comes to costs associated with implementing ERP software there are two factors to consider:
Professional services for a team of experienced ERP implementors


Monthly software subscription
What is the price for small businesses?
As discussed above, the total price of implementing an SAP ERP software system for a small or mid-sized businesses will depend on the implementation cost and the monthly software subscription.
The monthly software subscription price for SAP Business ByDesign and Business One ranges from $22 – 221 / user / month for the software, and implementations can range from $40,000 to $400,000+ depending on the complexity of your operation and the number of users that will be on the system.
Consider working with an SAP ERP partner
Companies evaluating an ERP software implementation are often caught up in what software they pick, when the most important question to answer is WHO is going to implement it. The value you drive from whatever software you select is directly related to the team you hire to implement and support you. These reasons include:
Project Timeline Guarantee

– going over timelines is one of the most common ways ERP implementations go wrong, so make sure to get a timeline guarantee

in writing

or your company will be the one left shouldering the risk of timeline overages.


Project Pricing Certainty – unless you want to pay your ERP partner like you pay your lawyer, by the hour, insist on a fixed-price for your project. If your partner doesn't shoulder the burden of project budget, then your company will. You partner should do this, they implement ERP software all day, every day, and you don't.


Post Go-Live Roadmap Support

– going live with your new ERP system is just the beginning. Your company's future depends heavily on your ability to effectively use technology, so you better have a partner that won't just get you live but has the capability to deliver successful outcomes for a predictable and consistent price over the long-term.
Stellar One Consulting is an SAP Gold Partner specializing in SME businesses like yours
Stellar One Consulting has been helping small and mid-market companies implement and maximize their use of ERP technology for decades. Our expertise and obsession with delivering successful outcomes to our customers has led to the development and deployment of a truly unique and innovative approach to ERP implementations:
An agile implementation methodology
A fixed-price promise
A go-live guarantee
See how SME businesses reach their goals with SAP
Ready to solve your business problems and beat your competitors? Get in touch with a Customer Success Manager at Stellar One to learn how SAP ERP solutions can help enable rapid growth at your organization.