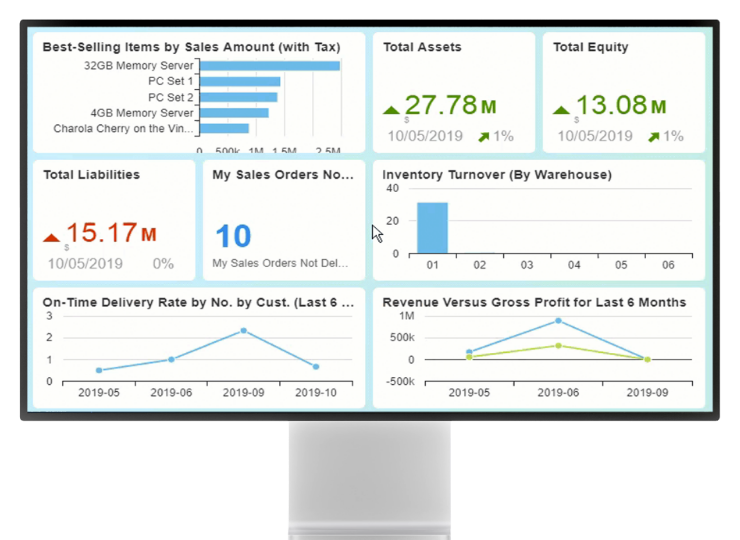 COMMAND YOUR ENTIRE BUSINESS FROM END-TO-END WITH AN SAP BUSINESS ONE ERP SYSTEM
From Accounting, Sales & Purchasing, Inventory & Manufacturing, Customer Service, and Project Management, centralize your business operations with SAP Business One Cloud ERP Software. Spend less time managing manual processes, reduce human errors, improve efficiency, and increase profitability.
SAP BUSINESS ONE ENABLES EVERY DEPARTMENT TO GAIN GREATER INSIGHT INTO YOUR COMPANY'S PERFORMANCE AND MAKE INFORMED DECISIONS BASED ON REAL-TIME DATA
MAKE SMART DECISIONS WITH POWERFUL BUILT-IN DASHBOARDS
View, search, organize, and perform regular work and related activities in the SAP Business One HANA cockpit or dashboard—a unique, personalized work center for every user.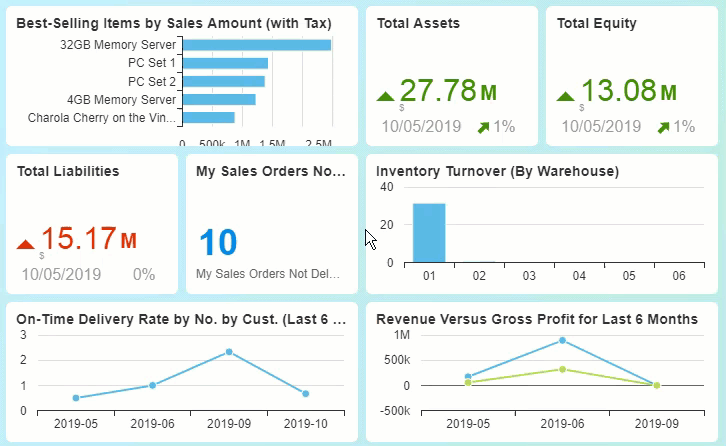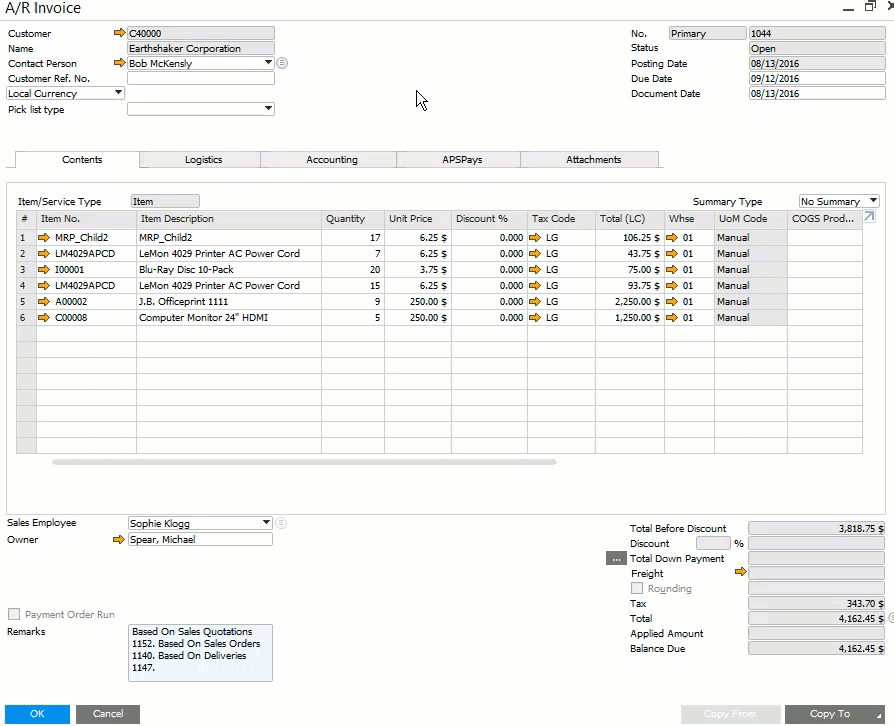 ALWAYS HAVE A CLEAR VIEW OF YOUR ORDERS
Easily visualize the connection between different business objects and transaction documents with SAP Business One's Relationship Map.
FINDING THE INFORMATION YOU NEED IS INTUITIVE
Drag & Relate is a user-friendly search function that helps your team find the important information they need to operate efficiently and provide your customers with a stellar experience.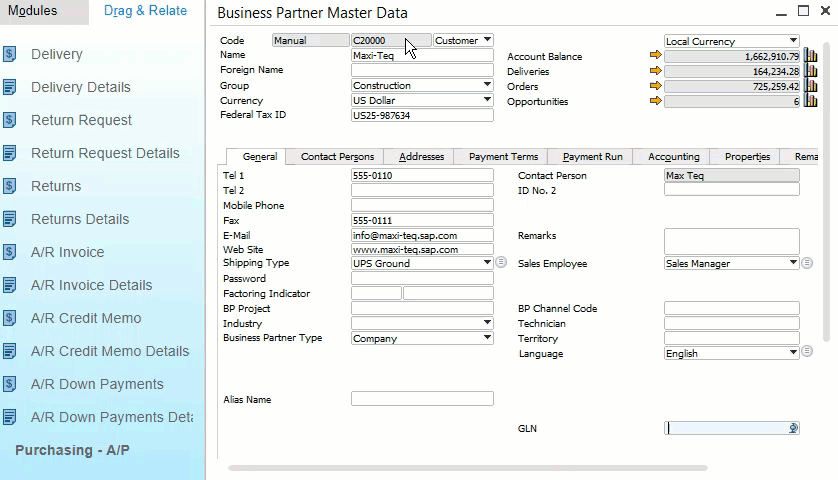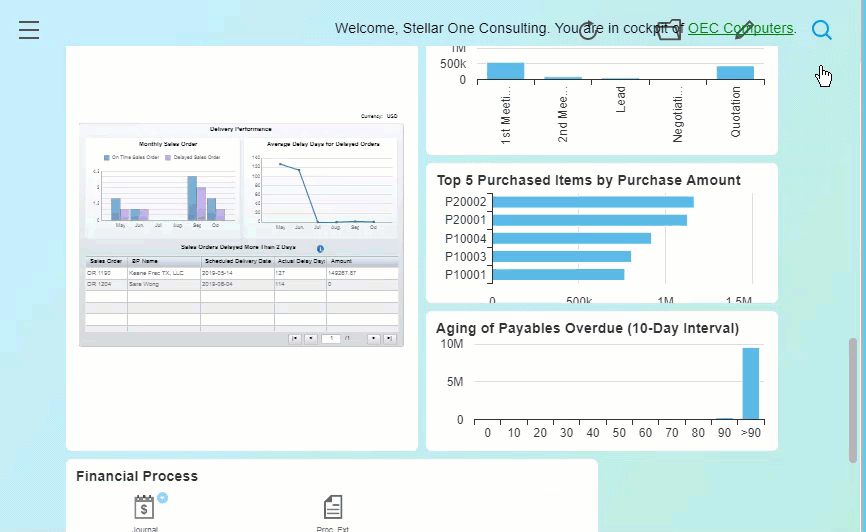 LEVERAGE A SEARCH ENGINE FOR YOUR SYSTEM
Find any business object or document using powerful advanced and global search functionality in SAP Business One.
YOU DON'T HAVE TO DITCH EXCEL COMPLETELY, IF YOU DON'T WANT TO
Easily copy transactions, sales and purchasing postings, or basic data to or from Microsoft Excel or Microsoft Access files.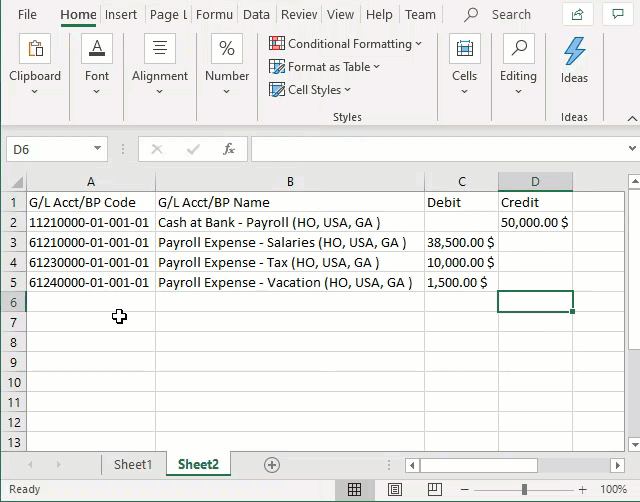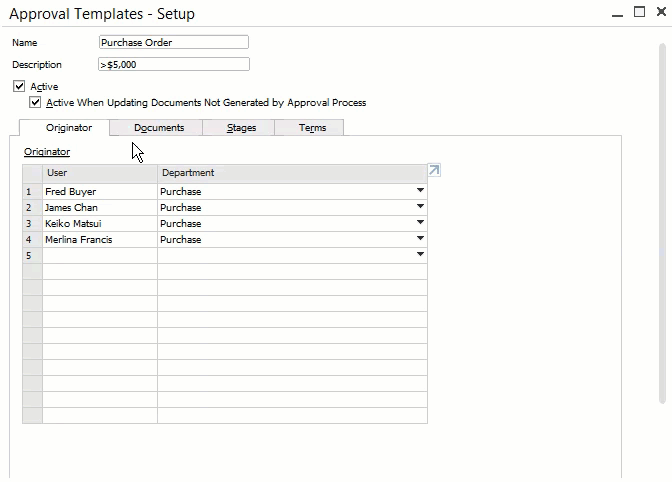 HAVE TOTAL OVERSIGHT & CONTROL OF YOUR BUSINESS PROCESSES
Define and simply set up approval processes for various documents, under various conditions, and for different types of members on your team.
OUR TESTIMONIALS
OUR CUSTOMER-CENTRIC CONSULTING IS MORE THAN JUST TALK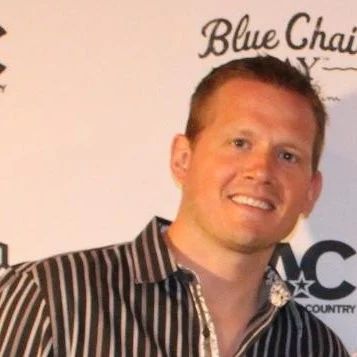 Stellar One Consulting has been providing us with outstanding SAP implementation services and support for years. Without their guidance, we wouldn't be using the system as effectively as we are today.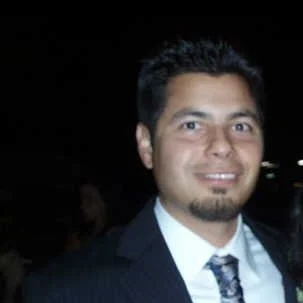 SAP eliminates manual processes so we can properly track parts and projects throughout the entire manufacturing process.
VP of Parts Operations at Block Imaging
The fact that we can understand our inventory with extreme precision give us an incredible advantage. We now use SAP to do things that our competitors aren't able to do.
REQUEST A PRODUCT DEMO OF SAP BUSINESS ONE
SAP BUSINESS ONE IMPLEMENTATION & CONSULTING FAQs
Here's some questions we've proactively answered. If you have a specific question that's not addressed here, just tap the chat button on this page and ask away.
What can SAP Business One do?
SAP Business One allows you to realize more value from your business processes by integrating, streamlining, and centralizing all your operations into one system. This includes Finance & Accounting, Sales, Customer Relationship Management, Purchasing, Production, Order Management & Fulfillment, Inventory Management, Customer & Field Service Management, and Project Management.
Is SAP Business One in the cloud?
SAP Business One is a hybrid solution that can be deployed in the cloud or on-premises. For all new implementations, Stellar One Consulting focuses exclusively on SAP Business One in the cloud.
Is SAP Business One a good solution?
SAP Business One is considered a best-of-breed ERP software by the business management technology community. It is designed specifically for small and mid-market enterprises. You have likely heard that SAP is also known for developing ERP software for larger companies, but SAP Business One is built specifically for smaller businesses because it comes fully integrated right out-of-the-box, it can be implemented in a matter of weeks, and is priced very affordably. To read reviews written directly by SAP Business One users on TrustRadius, go here: SAP Business One Reviews & Ratings 2021 (trustradius.com)
What are the features of SAP Business One?
Accounting & Financial Management

Sales & Customer Relationship Management (CRM)

Purchasing, Material Requirements Planning, & Vendor Relationship Management

Warehouse & Inventory Management

Production Management

Customer Service Management

Data Analytics, Reporting, Dashboards, & KPIs
How can I learn SAP Business One?
You are not expected to know SAP Business One before you implement it. We include education and training for SAP Business One in every implementation! Our implementation methodology allows your team to work through your business processes in SAP Business One using a test environment. We will help guide you every step of the way so that you are prepared to go live.
The best way to learn if SAP Business One is the right fit for your business is to spend 30 minutes with our team on a Discovery Call. You can schedule your call here: Schedule a Discovery Call Now
How long does it take to implement SAP Business One?
In our 30+ years of experience implementing ERP Software, the best predictor of implementation timeline is the number of users on the system. The number of users typically speaks to the complexity of the business processes which is the main driver of how long it takes to implement ERP software.
At Stellar One Consulting, we offer a Go-Live Guarantee for all new SAP Business One cloud implementations. This means we guarantee that you will be live inside the timeline, or we will pay for your software subscription until you are live.
| | |
| --- | --- |
| # of Users | Go-Live Guarantee |
| Under 10 | 90 Days |
| 11 - 50 | 120 Days |
| 51 – 100 | 150 Days |
| 100 - 500 | 180 Days |
How much does SAP Business One cost?
The two costs of implementing SAP Business One are:
The professional services required for our team to prototype, configure, test, train, and prepare your company to go live.
Your access to the software through a monthly subscription (SaaS).
Please see our Implementation and Software Pricing Page to learn exactly what SAP Business One costs.