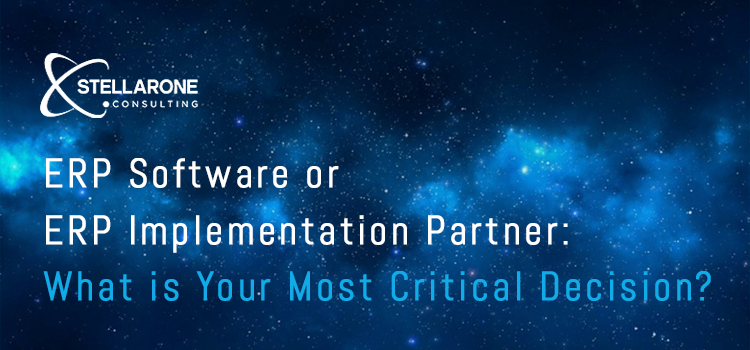 Beyond ERP Technology –
The Two Decisions You Have to Make
If you've decided that implementing a new ERP software will help solve the operational problems your organization faces, then you're realizing that you've got two big decisions to make:
What ERP software is the best for your company?
Who are you going to hire to implement and support your new ERP system?
If you're looking at best-of-breed ERP solutions from vendors like SAP, Microsoft, and Oracle, then the software you select is the least critical of the two questions. Juggernauts like these make great software products, that's why you're considering them.
Companies win and lose using these solutions every day, and it's not solely because of the software. The value that a business drives from the software is due to the way the software is being utilized.
Let me address the alternative for a moment.
If you're looking at more obscure, niche, not-as-widely adopted ERP software, please proceed with caution. ERP (enterprise resource planning) is a software category that has been around for decades. The manufacturers of these systems have been around that long too. It takes hundreds of millions of dollars to bring an ERP solution to market, and billions of dollars to develop and enhance them to a position where they meet a vast majority of modern business requirements right out-of-the-box. Business management software companies like SAP, Microsoft, and Oracle are among a very small number of brands that have the resources to develop best-of-breed ERP technology.

So, if you select an emerging or niche ERP software solution, then you're undoubtedly assuming more risk. In this case, not only does your liability come from the team who implements but from the software itself (and an ERP system is harder to replace than a partner who is botching your implementation).
Psst, here's a little secret.
Assuming you select one of the household names, it's time for me to let you in on a little secret: they all do the same things.

One has the button here, the other has the button over there. One may handle certain business scenarios differently than the other, but they all are going to provide very similar capabilities and desired outcomes.

All of them have well-developed, well-documented APIs so, if whatever system you want to integrate your ERP with has an API (and all modern technologies worth their salt do), then the integration capabilities are similar.
Software is just a tool.
The value you drive from the tool is driven by how you use it. And how you use the software is dependent on how it's implemented and supported in your organization.
All this is to say: the most critical decision in front of you is not the software, but the partner you hire to help your company drive the maximum amount of value from the technology.
ERP technology without the right partner is not the solution to your business problems. Like any technology—without the right partner who can help maximize the technology and identify solutions to real business challenges—an ERP system is just a piece of software.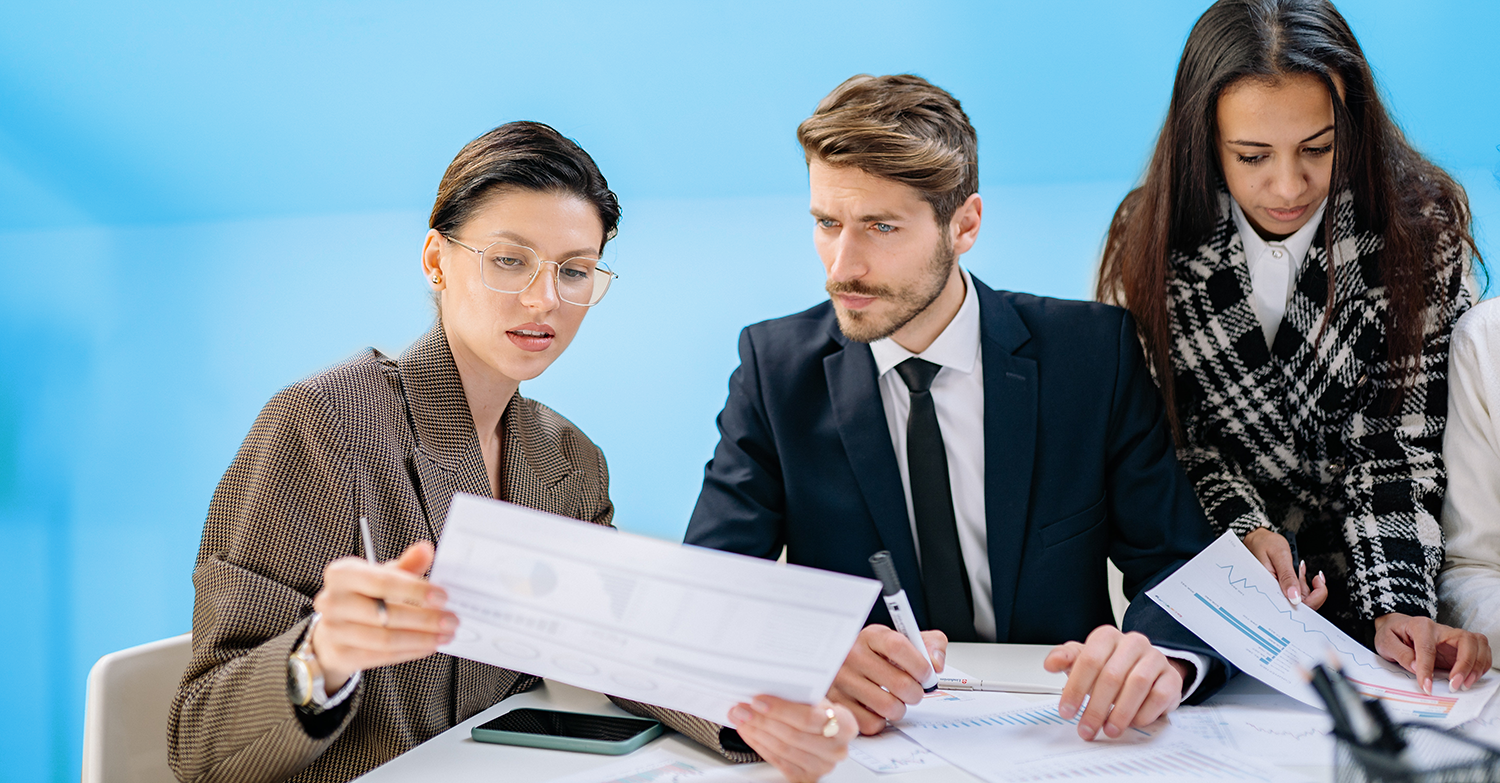 That's why finding the right partner is crucial to the success your company experiences by implementing a new ERP system.
What Exactly Is an ERP Partner?
An ERP partner or consultant is a strategic partner that is certified to sell, implement, integrate, and support your ERP software package. They can help you with everything from finding the right ERP software for your business, to the implementation itself, to integrating with other systems, and providing ongoing support.
In most cases, these teams are full of experienced business management technology professionals who have years of experience and have implemented dozens or hundreds of ERP solutions for companies across different industries.
How Can an ERP Partner Help Your Company?
An ERP partner can make a significant difference to your business, no matter how big or small your company is. Partnering with a company that understands your business and the capabilities you need will allow you to build an efficient and personalized ERP system that is tailored to your business requirements.
A good ERP partner will have:
Strategic insights about how to adopt and implement business management technology for growing companies

In-depth product knowledge of your specific ERP system to pursue all possibilities

Expertise designing process automation across multiple functions

Ability to identify and integrate other systems and data sources across your technology ecosystem

Willingness to be a true partner by assigning risk in the appropriate place
Because your ERP system is the digital core that underpins your company's operations, accurate solution design and configuration is imperative. Without the expertise of an ERP partner, you could face data loss, lost budget, and failure to implement or deploy your ERP system on time—among many other challenges.
What Should I Look for in an ERP Partner?

Pricing Model
ERP consulting companies are typically structured like law firms. They sell time. However, when a supplier gives you a quote with their hourly rate and an estimated number of hours to complete the project, they have put the risk of a budget overrun on you—and your core competency is not to measure scope, timeline, and budgets for ERP system implementations.
The price in the implementation proposal presented to you should be fixed. It's should not be a quote; it should not be an estimate. For example, we offer a Fixed-Price Promise; the all-inclusive price of getting your team live on your ERP system. You pay as we hit milestones in the project, meaning payment milestones are aligned with project milestones and you only pay when we show real results for your company.
Our model assigns risk in the appropriate place. Your ERP software implementation partner should know how much it costs to implement, they do this all day, every day. If they don't, that should not be your burden to carry.
Agile Implementation Methodology
The traditional methodology for ERP implementation is centered around "blueprinting". This is a long process—lasting weeks or months—where you're asked to answer questions about your business problems and what you want to accomplish with your new ERP system. A document—or blueprint—is then produced with detailed requirements that inform how the software will be configured during the implementation.
The issue with this traditional technique for implementations is that customers don't fully understand the capabilities or business scenario possibilities of their new ERP system. This means your team is stuck answering questions about things you aren't equipped to answer. This results in an inaccurate configuration roadmap which fails when business process testing in the system begins—making this blueprinting process a waste of time and money!
We believe ERP implementations need to be different. Our methodology is iterative in nature—and instead of waiting months to get into the system, you get into the system immediately. Starting early in the implementation, your team will run through each of your business processes from end-to-end several times during the project. Instead of some arbitrary configuration from a group of consultants who barely know you, your team will have a hand in how the system is configured which leads to faster, more accurate, and more widespread user adoption of the software.
Go-Live Guarantee
As mentioned previously, with the traditional ERP consulting business model, ERP partners are incentivized to drag out your project since they are getting paid by the hour. The longer the implementation takes, the more money they make.
That's why Stellar One Consulting pairs our Fixed-Price Promise with our Go-Live Guarantee. Depending on the number of users you implement, we'll guarantee that you'll be live with your ERP Software or Stellar One Consulting will pay for your team's software subscription until you are.
How Stellar One Consulting Has Helped Companies
Stellar One Consulting has a proven track record of helping companies across industries successfully implement ERP systems. For example, we helped Block Imaging reduce their collections process time by 40%, we helped ILWU Local 13 automate their accounting and finance processes, and we helped The Honest Kitchen increase transaction and customer volume by 2x—just to name a few.
At Stellar One Consulting, we empower you to use your system. As Charlie Postins, Owner of The Honest Kitchen puts it, "Stellar One Consulting has a teacher mentality; they make us the champion of our system—they don't just see opportunities to bill us."
"Stellar One used amazing knowledge of SAP Business One to enhance our system and guide us in the selection, development, and implementation of a sophisticated eCommerce platform."

— Charlie Postins, Owner of The Honest Kitchen
We work closely with companies just like yours to drive truly valuable business gains, and we aren't stopping anytime soon.
Ready to Learn More About Partnering with Stellar One Consulting?
More than a vendor, a partner is part of your team, goes beyond the technology, and dives deep into understanding your business challenges to then leverage technology to solve them. That's what we do at Stellar One Consulting.
Do you have more questions about how to implement SAP Business One or SAP Business ByDesign? Get in touch with us today and we'll help you get started with the perfect solution for your business!