Star Talks: Episode 14 with Andrew Zwerner: Star Talks is the podcast of small conversations that inspire you to do big things and in this episode Andrew Zwerner, the CEO of Chassi, shares his story of multiple deployments to Iraq and Afghanistan serving as an Intelligence Officer in the US Navy and how his experiences shaped his passion to lead teams through uncertainty, how he transitioned from the FBI to the private sector and built a startup company that reached 8-figure revenue in just their 4th year, and how the team at Chassi represents the next frontier of business management technology to democratize peak performance for small and mid-market companies so they can scale better than larger enterprises do.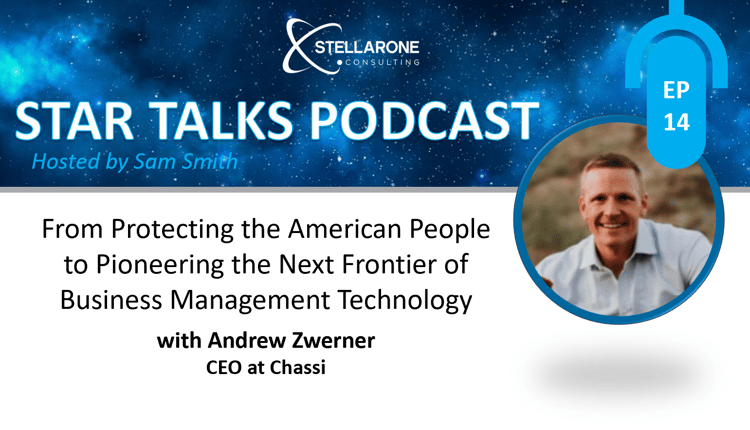 Listen, Subscribe and, if you like the show, give us a 5-Star Rating Here:
Apple Podcasts | Spotify | Google Play
You can also listen to the episode with Andrew here:
Ways to connect with Andrew and the Stellar One Team:
Andrew Zwerner - LinkedIn | Website | andrew@chassi.com
See all Episodes here - Star Talks Podcast
Stellar One Consulting Social Media - Facebook | LinkedIn | Twitter
Sam Smith (Episode Host): LinkedIn
Here's the episode transcript:
Andrew, thank you so much for joining the show.

Andrew: (01:38)
Thank you for having me.


So Andrew I've done some research on you or your background. We've we've had the pleasure of meeting a few months ago and, and working on some things together and we'll get into those types of things and the things that you're working on now. And I know we're going through a little bit of an interesting situation right now, unprecedented situation with the pandemic ,global pandemic cope at 19, and it is really impacting everybody in the world and here, especially in the States. And so I'm excited to be able to maybe provide a reprieve for those that are working from home or are sitting at home and looking for some good content to stream. And so I definitely think we'll be able to get that to them today. So Andrew, you know, you've, you've done a lot of things your, your background is, is very, very interesting. But let's, let's start, let's rewind. Let's go all the way to the beginning. Tell us a little bit about your backstory. Where are you from? What was it like growing up?

Andrew: (02:38)
Yeah, so I, I'd like to say it, I'm a nomad by trade. I think I lived in eight houses before I was 21 years old. So my father although I in the military, we'll get that in a moment was on the military. So my father was a, an obstetrician when I was born. He didn't deliver me, my mother wouldn't have divided that, but so he was a, an OBGYN. And then the reason we moved a lot is he was kind of changing jobs. So I think by the time I was seven rising malpractice insurance costs kind of force him in his partners shutdown in practice. So then he went to law school and he became a lawyer when I was seven or eight and ended up becoming a, a malpractice defense attorney. And he practiced law for several years.

Andrew: (03:21)
It's moved us from Connecticut where I was born, lived a few place in Connecticut, out of California. I moved out to the Bay area where he was practicing law. I spent middle school in a few different places in the Bay area. He quickly realized the practice of law wasn't for him and then ended up moving into consulting and doing some other things. So we moved to Los Angeles. That's where I went to high school. I'll date myself. So mid, late nineties when I went to high school and then ended up in college back East. But for the most part, my childhood was I'd say it's a pretty normal kind of standard childhood. I was very fortunate. I got wonderful parents who always pushed my, I got an older brother and I to try new and different things and really by dent of kind of our lifestyle, which was I say moving all the time, it forced me to kind of be in a place where Hey, we're going to pick up, move, shop, move somewhere else and it's going to be a new school, new set of friends, kind of new set of circumstances I had to learn.

Andrew: (04:15)
I think that, that, that not only built a kind of flexibility in me, but you know, it helped me embrace that as like, that's, that's kind of the way that life is, right, is, is you're always doing a new thing and trying a different thing. And, and I mean, I just, you know, now looking back, particularly my dad and his career I think I just accepted that there was this, Hey, it doesn't always have to be one path. The moment you're not happy on that path, you can make change and go to another path and do another thing. And really the only barrier to entry into a new field is is, is how much time and work you're willing to put into something. So that's, we'll speak to my, my journey in a moment, but that's something that I think it was just kind of inculcated in me, not, not directly, but just sort of by absorption. And through, through my circumstances as a kid growing up. So East coast, West coast, all over. And by the time I was graduating high school, I'm from Los Angeles where I had spent several years. I was ready to get back to the East coast where I ended up going for college.


Oh, okay. Got you. So where'd you go to college and what were you up to? What was an Andrew Zwerner like in college and what were your plans for your future at the time?

Andrew: (05:24)
Yeah, so I went to a small liberal arts school called Bowdoin College. It's in Southern Maine, couple of hours drive North of Boston. I was football player, I suppose, ball player in high school and I was nowhere near good enough to play and a and like a D1 school. So I ended up at a small division three school. It's great. It's an academically, it's a, it's a great place. I'd say the brand equity of my degree there has only improved over time cause there's no way I would've been accepted today. And I went in there over 20 years ago. So I didn't know what I wanted to do, frankly. I just wanted to hopefully use football to one-on-one or to keep playing football. But two, I want her to use it to get into the best school I possibly could. And I also realized about myself, if I had gone to like a large university a lot of my friends were ended up in the UC system in California.

Andrew: (06:10)
I would have gotten lost, right. So I needed to go to a small school that had kind of intimate classroom environment, the ability for me to ask a lot of stupid questions of professors and build relationships there. And, and so I had enough self awareness to know, alright, I gotta put myself in a good, good position or, you know, the right school for me. So I ended up there. And really it I didn't know what I was gonna do or what I, what I wanted to do. I started studying economics and you know, I figured I was going to go into business or something. And then I ended up studying government legal studies. So I, I got a major minor in government and then minor in economics and really the, the the inflection point for me, the, Hey, what do I want to do?

Andrew: (06:49)
Came from some timber 11th. So I actually studied abroad my fall semester of my senior year. I stopped playing football, cause a repeated injury and one abroad, the Stockholm, Sweden. And it was a about, I don't know, I'm 30 days after you get there. That's September 11th happens. And what came from that was an incredible appreciation for, to meant to be an American. By that I mean I traveled that semester all over Europe and you know, every weekend I was going somewhere new and fun. And obviously if you know, you're watching this and you can see the video, I kind of look American I guess in a cliche way particularly compared to a lot of Swedish guys. Despite the blonde hair, apparently my jeans weren't tight enough and I didn't have enough aftershave on, can be confused of Sweden.

Andrew: (07:36)
So everywhere I go, you know, throughout Europe you're staying in hostels and going to bars and stuff like that. People are talking about American foreign policy, right? And you're having these conversations about what it means to be an American. You know, and there's kind of this strange mix of, you know, sympathy that people express. And then of course, you know George Bush even at that time wasn't necessarily very popular overseas. So then you end up engaging in discourse around, you know, us policy. Because what's funny is even though you might not know a lot about the country you're in, they certainly know a lot about American American history. And and that really gave me an awareness, like I said, what it meant to be an American and overseas, right? As, as a young adult at that time. And and I just, I, when I was graduating, you know, six months later I kind of realized like, you know what, I don't, I did not, I wasn't really motivated by kind of chasing a paycheck, so to speak.

Andrew: (08:31)
So a lot of, you know, friends, good folks were getting into things like investment banking and in financial services, other people were interning on the Hill, on Capitol Hill and stuff. And I'm like, there was no real entry level job that appealed to me. And and so what I did is I kind of stepped back. I said, all right, I need to find a set of conditions in which I would grow and learn and have fun, right? And so that's actually a recurring theme in my life is I'm only going to do something if I'm enjoying it and how do I enjoy something? I enjoy something through challenge, right? Cause from challenge, whether it's physical, intellectual, spiritual, emotional, whatever challenge I'm challenged comes growth. And so at that time I realized like, okay, great. What's happening right now is, is a a kind of the defining event in my generation.

Andrew: (09:19)
And so I'm going to go on another path. And I went in the military. I was in college. I was really I say a geopolitical nerd. So I just was fascinated with conflict, foreign policy historically things like that. So I ended up I went into the Navy and I went through, applied through officer candidate school. So I finished college in 2002, got my degree and you know, came back home briefly while I was applying officer candidate school and you know, got selected and picked up as an intelligence officer in the Navy. And then away I want in early 2003 and in the service.


So I want to talk obviously a little bit about your time as an intelligence officer in the US Navy. But you know, I was 13 when 9/11 happened. So, you know, I was a kid. I remember exactly where I was when I saw the second plane fly into the building. I was in my bedroom getting ready for school. My dad came on and flipped on the TV. I mean, that's one of those moments that you always remember where you're at. You know, we're, we're living in it. Obviously not a, not a terrorist attack or, or an actual physical war, but there is, you know, we are in a very interesting, unprecedented time right now with the COVID-19 pandemic. What, are there any parallels between the two? I guess the two circumstances or the situations that we've found ourselves in and you talked about, you know, you started, you know, you started to realize or really understand what it means to be an American, you know, how does it relate to where we're at now? Is there, is there any correlation, but is there a, I mean, how does it relate? How, what are the, are there any similarities as to how we're responding to this time?

Andrew: (10:58)
Yeah, yeah, sure. So I kind of look at a framework for mindset. And so let's kind of step back if something happened, right? Something bad happened that was beyond our control. And the first thing anybody I would say needs to do, whether it's through something like a terrorist attack or something happens in your life all the way down to the micro level, kind of where we are with COVID is work through whatever process you need to in order to get to acceptance, right? W by, by whatever means. The first thing is just once you can get to acceptance of, okay, this is the thing, this thing happened and you accept it. Then from there you can really, all that's left to do is focus on what you can control, which is your reaction to that event and what you do about that. So imagine if you will, like you're the center, you're in the universe and there's kind of concentric rings around you.

Andrew: (11:50)
The first concentric ring is what you can control and a very, very, very small ring and in that and the most critical thing and that is your mindset, right? So something happened. How am I going to choose to react to that? How am I going to perceive what it is? What does it mean to me beyond your inner ring of control? The next ring is your, your kind of ring of influence, right? There's things that you can help shape and mold. You might not control them, but you're not entirely reactive to that. And then beyond that, which is the rest of the universe is things are beyond your control and influence. So these big events, whether it's September 11th, or COVID, you know, those are out there, right? Those are way beyond our control and our influence. And so, you know, what, what I've learned both through what happened with September 11th and then what I did with that and then the experience we'll talk about in a moment once I was, you know, overseas was the ability to one, accept your circumstance, kind of where you are, and then to really lay out, you know, through introspection.

Andrew: (12:48)
Like, what's, what, what can I control? What can't, what can I influence? What can't I control? And then be able to focus your priorities and your, your energies. Accordingly, right on the things that, okay, here's what I can control. And so kind of where we are with COVID is we, none of us have any control over any of this at all, right? This is happening right now. Okay. Nobody has any idea of spirit conjecture when we'll get back to normal or whatever that normal is going to look like and however that's gonna materialize. So all you can do is focus on what's in front of you, which is, you know, if you have a family take care of your family make sure that, you know, if you're still working right now, you're doing everything in your power to, to move things forward with work.

Andrew: (13:29)
If you're not working, you know, in with really tough headwinds is putting yourself in a position to go out and get find work. But by whatever means, we might be able to talk through kind of my career shift. I went from the military and the software and stuff and the lessons I learned through that. But you know, really do just to summarize, same as the first thing is get to acceptance. The second thing is kind of be able to kind of rack and stack what I can control. I can influence what I can't and then focus on priorities. One of the things that, that, you know people used to say in the Naval special warfare community in the seal teams which I supported was a make your world small, right? When things are really hard, you can't digest what's going to happen six months from now.

Andrew: (14:08)
What's gonna happen? You, it's just, it's, it's, my dad used to say a Jamaican cab driver once told him, worry be like a rocking chair or keeping busy and it gets you nowhere, right? And so people start worrying about stuff and you can't do that. You need to focus on making your world small and getting into, okay, what can I achieve now? What can I achieve today or this week? And kind of breaking things up in chunks. And that's what, you know, my wife and I got a couple small children and that's what we're doing is like, okay, focus on the day, get through the day, build some structure around a day. And get up at the same time you would Monday to Friday, you know, if you've got a routine, maintain that routine, otherwise you will fall victim to circumstance. Create a rhythm around your day and create a structure and a flow and control what you can control.

Andrew: (14:53)
And then everything else that happens after that, just get to acceptance really quick and then kind of work through that. I don't, I just can't watch the news. To me it's totally unwatchable. And, and sometimes if that means I'm the last to know and my groups of friends, so be it. But you know, when, when there's outrage or people are, you know, worrying about the next, you know, worst headline that came out. There's, there's, I don't mean to make light of it, but there's nothing you can do. And so I just try to kind of make my world small and focused on what we can't control and, and, and move things forward and, you know, make the best decision you can in the moment as a parent or as a spouse or you know even if you don't have a family or with your business. That's it.


Yeah. I appreciate that perspective, Andrew, that there's a lot of wisdom in that. And I think a lot of people can take a lot away from that. I really like being able to control what you can control. There's so much that's out of our control, but if you can take care of the things that, that you can take care of, then at least you're, you're doing your part. So you, let's go into your, your background and when you went into the U S Navy as an intelligence software officer and you spent several years assigned to and deployed with the Navy seals, specifically the Navy seals, most elite seal team that was credited with killing bin Laden and saving rescuing captain Phillips. So we've got a real hero here. What was that experience like? What did you do here and, and and what'd you learn?

Andrew: (16:21)
Yeah, no, there's nothing heroic about me. I had a pretty average military career. All things consider, I know people who've done incredible things that but but yeah, no, I, I honestly, and, and I, I mean this like it was totally a privilege. I'm privileged and honor. So what was it like? Well first I'll kind of talk through, you know, what was it like, and then what did I learn? So I, in order to get into what is the Naval special warfare development group or dev group you have to successfully select and screen and be selected and, you know, there's psychological and physical and background, all this other stuff. And so once you're chosen I was assigned to an assault squadron. You know, without going into the organizational structure basically at that time, I got there in late 2006 you know, both Iraq and Afghanistan were, were really kinda hot Wars.

Andrew: (17:14)
There was the height of conflict. And so my first deployment I was in Western Iraq. Midway through, so out in Ramadi. Midway through that deployment ended up shifting over to Afghanistan based on strategic priorities and then did a number of other deployments throughout the country in Afghanistan. I'd say I'll kind of go and tackle it like what we did and then back into, you know, what I learned from that, how that's applicable to what I'm doing now and in the SaaS world and software startup. So what we did was we found in eliminating bad guys, basically there was an operational framework call the 'Ops Intel Cycle'. And that was basically broken down. And when tenant parks, FFFEA, if you will find, fix, finish, exploit, analyze. So we had to do what my role was, was you know, we're living in some tents and some austere environment.

Andrew: (18:06)
And we were nocturnal. So every night, you know, I wake up at 3:00 PM in the afternoon and start my day so to speak. And I was blessed to, to lead and be a part of a great team of professionals across a bunch of different disciplines, whether we're people doing interrogations people running human sources that, you know, had other Taliban or you know, insurgent folks that were effectively, you know, providing information, kind of spine on the bad guys for us. And then other technical meetings, whether it's ISR intelligence surveillance, reconnaissance predators, drones or like overhead assets you know, signals, intelligence, phone exploitation, things like that. So basically my job was to consolidate and fuse that intelligence picture and then find, so getting back that FFF, EA, you know, find a bad guy every night, sometimes multiple times a night find a bad guy, fix them to a certain location.

Andrew: (19:02)
So it's that fixes, you know, physical geographic, kind of, you know, locating and okay, they're in this house right now. Right. All right. Once you fix them, that finished part is what you think is an assault force is going to get on a helicopter. And I'm going to go to a target through a number of different ways, whether it's kind of in a built up urban environment all the way to some very remote Valley and there's a bunch of different ways I get to that target. And then I say the enemy gets a vote. So ultimately by sunup that bad guy and whoever is associated with that bad guy at that target is either going to be in our detention facility or is not going to be walking this planet anymore. And what happens after that is the exploitation of the analysis, which would be okay.

Andrew: (19:47)
Grabbed the bad guys I think had been lawn right when on assaulting wanted and grabbed in London, you know, they had, if anyone's seen zero dark 30, they just, they grabbed every piece of media that they can, you know, from what we call pocket litter, like little pieces of paper in people's pockets. You know, you're, you're going through the body so to speak. Try to find every bit you can, any bit of information that you can then exploit and an analyze to find the next target over and over and over again. So that's a, it's a decision engine, if you will, where you're, you're constantly looking for a problem to solve. In this case, a bad guy. They either grab or kill. When you do that, then there's reverberations from that and you exploit, analyze those reverberations and I'll find the next one over and over and over again.

Andrew: (20:34)
And, you know, for months at a time you know, sleeping a few hours a day if that, and you're just it's just go, go, go, go, go. And it's exhausting and it's challenging and it's super stressful. But I think I got, not only did I get used to, but I got, I developed a real appreciation for I say subsisting in the state of heightened cortisol level. Like it in a way it ruined me because after that, not only doing that with those people you know, the most alpha personality, high performance, it is, you know, this, this team has arguably I'm even, Simon Seneca said it's arguably the highest performance organization on the face of the planet. And so that was a leadership crucible. Then I went through that, that I am every day appreciative of, I'm grateful for it.

Andrew: (21:30)
It has formed how I not only see the world, but kind of how I lead. And and so when I say it ruined me, it was that like I was unemployed. Like I couldn't, you can't just go back to normal life after that. Because you're, you're so imbued with purpose every day. And, and this gets to your question of what did I learn? Well, one of the things we said is like you know, there's a big difference between a group and a team and there's, there are basically three elements that a team has that a group doesn't, and a team has purpose, alignment and trust. Right? And a group does. So if you think about where you work or people listening to, thinking about their business, where they work and you, you know, have to have a real kind of hard look is do we have these elements?

Andrew: (22:19)
And the purpose, particularly in that world is pretty evident, right? That's, you know, at the macro strategic level, you know, what are we doing for national security? But really that didn't, you know a matter as much as, Hey, what, you know, the person you're lifting your rice so to speak, your team, like who you're there with, right? So the purpose was we're going to do everything in our power to go get bad guys. So they're not hurting Americans, right? And they're not causing chaos amongst the local populace. That's trying to establish rule of law. Alignment is okay, who does what, who's responsible for what roles? Your swim lane, so to speak. That should be clear. But oftentimes you know, those things require active coordination and sometimes some people might be in the lead, other times they might be following.

Andrew: (23:03)
So the ability to ego suppression and to create, you've heard the term flat organization, the, the joint special operations command when I was there was, is the pinnacle of, of a flat organization. And I can talk about that a little bit too. But basically creating that alignment, you know, those swim lanes to kind of get back to the team and then trust and the trust is the trust is the mortar that holds everything together, right? In the absence of that you don't have a team. And so I was, was really kind of, I guess I was shaped in that environment and I realize I'm like, whatever I do with the rest of my life, wherever I end up, I need the presence of these elements, right? I need to be on a team that's doing a hard and I need to be with people that I can learn from.

Andrew: (23:50)
Right. And, and, and trust. And there's a there's a, a stoic saying, I don't know if it was versioning Epictetus or Seneca, but it's a person's greatest burden is unfulfilled potential. And you think about, I think about that environment where people every day we're working like fighting actively to fulfill their potential, not for themselves, but for their team. And it's an intoxicating environment, man. It's it's a special thing. And and so, you know, I learned very quickly like, okay, what does a high performance team look like? What does a high performance organization, what does the structure, how does communication there? You know, what does, what does effective leadership look like? A general McChrystal, Sam crystal, who was the commander Jay sock commander when I was there, is, is, is the single most impressive a senior leader that I'd ever seen.

Andrew: (24:50)
I mean, he was incredible and so much of what he did and how he made, you know, this entire apparatus of the special operations kind of machine evolve to meet a dynamic enemy. Like when he took the reins, we were set up to fight, you know, conventional on a blue on red, you know conflict. And then September 11th happened and we're fighting this just Brit opaque network that is learning every night. And we needed to be able to create an environment where we had high learning velocity and we can adapt because if we didn't adapt, we're going to lose on a battlefield. And that was something that we couldn't have buy, right? It was no fail. So, you know, he created and he structured that organization that way. And frankly, so much of what I learned in that experience. If you have them go read team of teams where he talks to you that, you know, I lived through that has entirely colored the way I see what I do now and in the startup world. And we'll get to that, you know, more in a moment. But but yeah, it was, it was an amazing experience for which I'm, I'm thankful for every day, all the lessons learn, all the relationships that I develop, you know, that'll last a lifetime.


Well, I mean I always admire people that you know, you may not think what you did, you know, you're very humble guy, but you know, I've got a lot of respect for you know, what you, what you put on the line for, for us. And so I thank you for that from the bottom of my heart and your background is incredible. It's like something out of a movie. And you know, so you, you left the Navy and you went to the FBI. How did that transaction happen?

Andrew: (27:39)
Yeah, so a at sign, I was almost, you know, 30 years old and had been burning the candle at both ends. Say, okay, I'm ready to, it's been a heck of a ride, but I didn't like what the future had for me in the Navy. So I decided to get out. And really at the time I was deciding if I wanted to go into the FBI or the CIA cause we'd worked with a lot of those folks overseas. And ultimately I chose the Bureau for a number of reasons. But a wanna mostly I wanted to kind of live domestically and have a little bit semblance of normal life. And I didn't want to have to lie to everyone in my life about what I was doing, which had the agency I don't want to live under cover. Right. So when the Bureau became an agent and ended up in Miami and I was working counter-intelligence cases in Miami.

Andrew: (28:23)
So basically if you can think of counterintelligence, there's kind of two sides of a coin for intelligence. There's the authentic collection and the defensive prevention of the adversary collecting against you. So that's what I was doing was counter-intelligence. So, you know, if the agency, the CIA is responsible for going out and collecting foreign intelligence, you know, and supporting national security objectives, the Bureau at home domestically it's a bit of an over simplification, but by and large, you know, the, the Bureau is responsible for preventing, you know, foreign intelligence threats and other actors from whether it's, you know, espionage inside our corporate world or academia. You know you've heard of, and there are tons of, plenty of stories of of American citizens who've kinda been turned and spied, whether it's throughout the cold war and on up. And so, you know, my job as a, as a agent and the Bureau was to investigate those matters and prevent hostile foreign intelligence service from from exploiting sensitive national security information.


Huh. Okay. So you are about eight years, your serving the country in the Navy and then into the FBI and then you make this transition into the private sector. What happened? What encouraged you or motivated you to do that and what did you end up doing as your first step into the private sector.

Andrew: (29:43)
Sure. So I was only with the FBI for a little more than a year. A buddy of mine from deputy who described it as a 10 speed downshift and that's, yeah, it was a, it was a difficult cultural adjustment to go from, you know, wartime deployed with a team like that. Every night you're, you're making a difference to, okay. You know, I got to kind of, I say it's a fight through the bureaucratic nurse or the department of justice in order to investigate cases that can drag on for years and years and years and maybe never even lead to an arrest. Right? So I got some great buddies in the Bureau and there is some incredible people who do wonderful things for this country. But by and large it just, I came to the conclusion that this was not an organization I was going to come and get my pound of flesh to for a 20 plus year career.

Andrew: (30:32)
So I then had this kind of moment introspection. It's like, okay, what am I going to do? And I stripped down to the studs, which is an exercise I encourage anyone to do. When you're at inflection point in your life, your career is like, okay, what did my best day look like? Like what am I best days of my life look like and what are the elements that made up that and how do I find that? And really what I came to the conclusion was I loved like when I got out of bed in the morning if I was, you know, and some crappy cop and you know, Afghanistan or Iraq was like, OK, I I got to solve hard problems with great people and I got to learn from that and grow from that, right? And I, I had so much resistance to overcome every day, every way.

Andrew: (31:18)
And I'm like, I got to find that. I just, I needed to be in that environment. And frankly that was the Bureau was not that for me. So to me, the closest environment where you can find that and the private sector is a startup is building a business, right? Small team doing really hard shit, excuse me, but they know in the center of chaos, right? And every day is, is, you know, feels existential life or death. And financially it is, even though you know, you're not you're not out of threat, we're getting kind of mortared or shot at. But boy, the stress levels in a startup or sometimes your body feels that every bit as acutely as it does when you're in a war zone. So I ended up with another guy I served with you know, jumping in, starting a business, doing largely what did we know, security consultancy.

Andrew: (32:04)
So he and I moved up from Miami to Virginia and, and we started in his basement and he was a Naval Academy guy and I'm a liberal arts guy. Neither of us have an MBA, but at that point I realized, you know, like if you don't have an MD or JD next to it, there is no real advanced degree is a barrier to entry to practice business. Just go do it. Like, just go figure it out. And, and frankly, the one of the terms is OJT 'on the job training.' So I'm like, I know nothing about business. I, you know, had not been in business school. But what I did and I was on, I wasn't going to spend the rest of my life in the Bureau. So I'd rather go kind of build a company and build a company that I want to work for and I want him to be when that company, the types of kind of cultural elements that I always loved inside of the special operations community.

Andrew: (32:50)
Right. So, you know, I'm like, great. I'd rather be kind of skipper of our own little dinging here. Then, you know, employee number 5,000 on a big ship. So we were focused on we ended up, you know, as a veteran, small business doing a lot of government contracting. We, we sold into kind of a lot of the same special mission units and places where we had served before. And before you know it, we went from like 160 K in the first year to like 1.5 million year to 6.1 the year after 12.7 the year after, kind of like leaps and bounds growth. And you know, we were raising money and building a board and doing all this stuff. And it was all like I got my, my MBA experimentally right on the fly building largely services business selling them and government.

Andrew: (33:34)
But we ended up expanding into selling in a commercial multinationals. In 2015, I think it was, I ended up moving to Chicago cause we ended up standing up our commercial T and L there and some of the multinational businesses. And kind of long story short it was almost a seven year ride and about three years ago we're looking, the CEO at the time, I was looking to potentially merge the business and I'm like, you know what, it was a great ride and it was just time. It was time for me to move on. And, and frankly I wanted to, I want him to get an a technology is pure software startup, right? We are by and large a services business and and I wanted to seek that next challenge. And so my wife, who's from Arizona wants Arizona state. We have family here. When you decide to move out to Arizona and and you know you know, brave the braving the wilderness and kind of navigate your way to the next opportunity, which is what I did. So I moved out here and built a network from scratch and decided I wanted to take what I did and kind of build onto the next thing and get into technology. And I have somehow found myself as the CEO of a SaaS startup.


So, so you went from a largely services business with Prescient , is that how it was pronounced? Correct. Yeah, that's right. And then, so what attracted you to technology? What attracted you to the software?

Andrew: (34:55)
So the ability to will want to hard problems, right? Anywhere. So every, you've heard this, right? Every business is either a software business is becoming a software business, is being disrupted by a software business or is being serviced or kind of level up by software, right? Even any traditional niche business, right? So, okay, that's where everything's going. That's where the hardest, sometimes we are, I would say the hardest problems, but also the ability to deliver the biggest impact, like an asymmetric impact, right? Like small businesses have only a few people, you know, can, you know, create markets and, and you can't, you can't scale linearly. So I mean you can't, you can't do that with a services business or a physical goods business, right. Bits, bits over Adams. So I'm like, that's it. And further, you know, I hadn't, I have not written a line of code since Bill Clinton was in office, my eighth grade computer science class.

Andrew: (35:51)
So I'm like, okay, I know nothing about writing software. What do I know? What do I like to do? Okay, that's it. Back to, you know, team purpose, all those things, learning and, and I'm a generalist, but by trade, right? I don't have any particular deep vocation, but if anything, you know, I can, I have a pretty high learning velocity and a will to throw myself at problems. And so if I can learn enough about different disciplines with people who are experts, who are forgotten more about certain crafts, whether it's product or UX or you know, marketing. And if I can speak intelligently with people like that, I know I have confidence where I can foster an environment that sets that purpose and create that alignment and kind of build that trust on a team. Cause that's what I've experienced doing. And so I, I, I that's what I wanted to find and I wanted to do that in a place where, you know, I could be a part of kind of shaping, controlling our destiny and really just going after big problems. Right? that's, that's the thing that, that moves me and that moves the team of Chassi is the opportunity to do something different in some white space and and solve problems in a meaningful way for people who have knocked they've not seen our approach before.


So we've got the lead up, we've got the backstory. It's pretty pretty incredible backstory that you have. So, but here we are today. So what are you working on today?

Andrew: (37:09)
Okay. So you know, one of the things that I was talking about was like fulfilling your own potential. Right? And that's the thing that scared me. So is not fulfilling your potential and like being able to go do that in your life. So what Chassi is doing, which is the magically consistent with that. And you can think of it as we are helping businesses unlock their ideal versions of themselves or fulfill their potential, right? Specifically small, medium manufacturing distribution businesses as a focus right now. And so if you think of, I'll take a step back and for kind of really jump into it to frame this. If you think of Toyota, everyone knows how or Walmart were like huge businesses like that, that have had all the resources in the world to throw out, throw apps whether it's kind of the assembly line and making the perfect version of what ideal, you know, assembly function should look like and end for Toyota or fulfillment and logistics for Walmart, etc.

Andrew: (38:03)
The SMBs don't have the ability to do that, right? Like that's just so far out of reach. Because they don't have the resources and the means and, and and so what we're doing at Chassi is we are basically productizing, you know, through our technology that best practice where think of a furniture manufacturing business, right? That's running on an ERP and ERP systems. Very powerful system, but it's fine. Large financial software, right? If you think of it, the buyer and the reporting that comes out of that is, is, is for geared towards financials. But what it doesn't do is it doesn't give you operational insight and it doesn't help you know what's going on in my key processes right now. Right? So it doesn't help the fulfillment manager or the VP of ops understand, do I have a bottleneck materializing right now?

Andrew: (38:51)
They usually have to wait until an order goes out the door later. A customer calls cause something is inaccurate to find out there is a problem and then they go and investigate it, right? And then if they're sophisticated, they might have like data visualization tools like Looker or Tableau or power BI or any analytics kind of in house, both people and tools. And they look at a data warehouse that the data by and large are generated from the ERP. So it's missing a lot of critical information cause those systems weren't designed to capture you know, operational information and then they put some charts and graphs over it and they try to say, Hey, here's what happened last month, last quarter. So let's make sure this doesn't happen again. That's an imperfect, flawed model, right? So what we do is we plug it into any ERP instance for our customer.

Andrew: (39:38)
You can think of us from a medical standpoint, like an IOT solution for a SAS app where we set sensors inside of a customer system and we capture all of the activity that is relevant to a key process, like a fulfillment process. So let's say an order comes in, that order needs to be entered into the system and then needs to, whether it's assembled or you know picked, pack, QA, shipped, all those steps of work that require order come in order to go out. What we do is we capture all of the germane activity in that system and we pull that out of the system. So the system doesn't necessarily itself like an ERP doesn't necessarily by and large capture or make that information available to a customer. So we capture it, we create all these new events out of the system, we then model it mathematically.

Andrew: (40:24)
We process that and then we provide that back to a customer where you can think of us almost as like a Google maps or a ways or your, your, you know, a key workflow where we will first show a business end to end what your actual process. And it's not what you think it is or not. What the expensive consultants you paid to tell you what it is, what's, what does it right now, what's on hold, who's going slowly, what, right? And then once we understand the baseline of good behavior and flow timing volume, like how many items can I have in a step, et cetera. From there we orient the business toward anomalies and those anomalies will basically present themselves once you understand, have the context of what good behavior looks like, where is the slowing coming down? Right? So if, you know, a wave of orders comes in, imagine being able to create like a tsunami warning down the chain all the way through.

Andrew: (41:17)
You know, the people at the loading dock, getting that out, Hey, if we don't staff accordingly and then we don't orient toward, you know, this, this massive order moving through we're going to get, we're going to get screwed, right? We're going to get stuck. There's going to be a bottleneck or we're not going to be able to fulfill, you know, what the customer wants when they want it, so that those problems materialize all the time in these businesses. And and a lot of times you might have a lack of compliance. People aren't necessarily doing the thing in the system that they should be doing, et cetera. So what we do at Chassi is help bring that up to the surface and we do all of the faculty, the analysis and the product and we, I say you know, we'll improve the accuracy and velocity of the decision making of the business leaders so they know what's going on and they can make the right decision and they can, that little spark that's starting to burn, they can prevent it from becoming a big forest fire.


So how did you discover this need?

Andrew: (42:13)
Yeah, it was iterative. So we initially weren't looking at this market, I'd say about eight months ago and earlier in the, you know, we pivoted to get in here. We were taking our technology into a earlier stage software businesses. Our founder and executive chairman very successful bright guy who started a successful SaaS business here in Phoenix called WebPT. One of the things he'd always envisioned was the ability to know what's going on inside an application, right. And so that, that underpinned what we brought to market, which was, Hey, what are people doing? What, what are, whether, you know, initially we are selling into our early stage software startups looking to do like customer onboarding. Like what's happening in your onboarding journey? Have they configured their accounts, have they imported their data, whatever that might be. And for a number of reasons, I realized that wasn't the right market.

Andrew: (43:01)
There wasn't enough volume. It wasn't enough. It wasn't kind of tightly defined in the flow. And so that made us, you know, take a hard look at where does this technology apply most. And we realized and, and you know specifically for now manufacturing distribution businesses, but basically any business that has tightly defined processes with objects moving through a workflow on a heavy system, big system like an ERP, it all lined up for us cause there's like there's this great system of record from which we can, you know, connect into, there's tightly defined processes and there's a lot of people doing work. It's that confluence of people, process and technology. And we realized we're in white space cause cause it's a really hard thing to do. One, it's hard to collect the right amount of information because these systems don't natively generate that for you too.

Andrew: (43:45)
Once you collect that, it's, it's difficult but not impossible though. Difficult to to model that. Right? And then providing that back and intuitive way where the customer ultimately knows what's going on right now. And if they are, you know, as they're intellectually curious enough can then drill into what underpinned this alert. It, it made total sense. So I mean that's, that's when we found you, right? Like I remember unlike Dan, we had our first conversation, we started talking and, and, and we've learned a tremendous amount from you and, and Richard and Teresa and the team about the market. And so, you know, that's it. I would love to say it was exactly by design, the key theme of, Hey, no one what's going on and being able to deliver better outcomes is there, but we just had to kind of move into this market where we are now.


So ERP software has been around for four decades. Why is anybody else doing this? And if they're not, it's seems like they're, it makes a lot of sense. Why is no one doing this? If the, if there's really nothing else out there, if it is truly white space.

Andrew: (44:51)
So I could say with greater a great deal of confidence that it's white space and the reason, don't take my word for it, but I mean I've had dozens and dozens of conversations with executives and leaders at every big oligopoly you can think of. You know, Oracle and NetSuite and Microsoft, you know, consultants that live in those ecosystems in four etc. All of the kind of service integrators, value added resellers. We've been, we've been in this space for a long time, you know, now are having a lot of conversations and and, and you know, I can say with great deal of confidence that nobody is doing this. I think, I think the closest thing you see is something that's called process mining. And what that is, is basically something plugs into logs, structured data that a system, a system generates and then visualize it for you.

Andrew: (45:45)
And there's a few different tools out there and there's a gardener quads are out there, but structured logs are like, I mean, we're pulling raw, unstructured data, right? And that's the hardest thing. We're not just taking what the system gives us. We're going in and actively collecting and generating new events off of user activity, right? That is germane new process. That's hard. Nobody's doing that. And then how we model that, nobody's doing that as well. So how we model it isn't necessarily new science so to speak. But it's it's, it's, there's mathematical modeling that has been applied to other industries that we are now using from a best practices standpoint in a novel way inside of this space. Why hasn't anybody done it? Okay. That's conjecture. But I'd say one, it's really hard to I mean, look, you Richard would certainly understand this.

Andrew: (46:31)
Having come from space X, what, like innovation is not the Providence of big businesses, right? Like, look at, you know, any innovation that has happened in in, in media. Like, you know, YouTube, Facebook, they didn't come out of the big networks, right? You know, things that are happening and look at every app that has to do with real estate. It didn't come out of like Coldwell banker, right? Like all of the big, I don't know, it's something that's fundamentally human nature, but all these big organizations that you would think would have the monopoly on kind of customer pain and information and they shouldn't have all the resources in the world and pull position and go out and figure this stuff out. I, I, you know, there, we could go down a deep rabbit hole and up to, out of respect for your time and the listeners time and won't do that as to why that is. We just w we're just not seeing it yet. It doesn't mean it won't happen. And you know, for, as we're successful in generating momentum we're confident that that there will be copycats and people attempting to do this very thing. But you know, it is our responsibility to out execute to our position and to make sure that we're delivering value consistently and learning from customers and leveling up over and over and over again and staying out in front.


So take us into the day of a CEO, CFO, COO, they're using Chassi. What is, what is their, what is their life like as a result of using the technology?

Andrew: (47:47)
So our vision of that is they know at any given time they have, we say total operational clarity, right? They know what's going on, they have context. So it's not just visibility, but it's the context along with the visibility is what's going on. What does the health of my operations right now in my business, and so imagine if you will, a CEO who once COVIDs over, is sitting on a plane and they're about to, you know, shut down a cell phone, they're going to go fly somewhere and with the 30 seconds before they get on that plane, instead of having anxiety, not them. That, all right. A couple orders just came in and we got a new distributor and we hired a new folks running this team and Oh my God, is it all working? They can pick up their phone and look and basically be able to see in real time what's going on, are we green or yellow?

Andrew: (48:35)
We read and where, and then be able to communicate effectively with their management teams right across the business and have that peace of mind all the way up to the top. And then if you kind of worked at the way, it's that way down logically to extend your question, you know, the folks that are actually making things happen on the floor of the warehouse, if you will, they, they know what their work looks like. By that I mean they can understand the context of how they're performing relative to what they could be and relative to what they should be in the peer group. Right? So you think of the Peloton effect where you know, once your name is on that screen and your crank on that bike, it's a different psychology. Whether or not you're trying to, you know, win or you're just trying to, you know, level up in the class.

Andrew: (49:22)
That's effectively what we're looking to do. Where you see that in in sales. Every person who's working in sales, they know their funnel, they know the deals. Now the quota, they know all of that. You don't really see that in operations. How am I doing right? How am I, how could I be doing? And further, you know, once we make work visible, the ability to map that to ROI. If I push a little harder or if this team was able to reduce touch time in this step, you know, from an hour to 40 minutes, what does that mean to you know, the, the, the bottom line, what does that mean to cost reduction and how can I get more with less so to speak. Like those we are going to make access to those kind of next levels of performance materialize in our product.


So you and I have talked offline once you use the phrase democratizing peak performance. You've said here just a moment ago, like unlocking the ideal version of oneself or the company. What is this do, democratizing peak performance, what does that mean to a small or mid-market company

Andrew: (50:24)
When, when you're running a, a, a small business and there's no shortage of headwinds from, you know, very tight margins competitors both domestically and overseas Amazon etc. You're trying to ring out every bit of performance that you can out of that business. Right? And and so what it means, what I would tell you, you know, kind of customer conversations that I'd had are some of these folks are on these businesses. The will is entirely, their will is so they're in spades. It's, it's, they need kind of the empowerment of the way, right? And so it's, it's out of reach. And you know, just, just to draw on a conversation with one gentleman, his present business, he was like, look, I know these people in this function that I'll say this delicately there, there are people performing, there are some that are not as performing as well as they could be.

Andrew: (51:19)
And I need to find that out so we can basically set like the bar of what does right look like, what is achievable and how do we get the people who aren't, they're leveled up. And I would argue that, you know, it's less about the kind of blonde, how do I, how do I cut costs or remove team members that aren't performing? Which that obviously is it, you know, that's, that's some overview of the leadership, but the ability to level up the existing team, right? Like, and to show people, here's where you're at, here's what this means to the business from a dollar, like a map to ROI standpoint. And if you do this, it's going to get our performance in this level here. Right? So we're, we're sort of removing that opacity there and we're aligning, you know, from leadership all the way to kinda action, you know, personal level what's going on and creating that target, that purpose that they can shoot at to increase performance.


As someone who's worked with small and mid market companies my entire career, I watched my dad start a small company when I was in high school. I, I basically left school early to, to help him start that company. I, anytime I come across something that I feel gives a small business, the ability or a mid-market business, the ability to compete with the big boys, that's something to be really excited about. And, and that's kind of what I sense here. So I mean, what's the next 12, 18 months look like for Chassi?

Andrew: (52:48)
Well you and I are gonna be spent a lot of time on the phone. Aren't we?


Yes, sir.

Andrew: (52:53)
Yeah. Yeah, it's it's exciting. I mean you know, without going too far down on the roadmap, we have a lot of wonderful things planned. And you know, Lisa Haggert, know our director of product strategy and, and has a lot of incredible ideas that we're going to be kind of test setting, testing and iterating on with our first customers. But frankly what, what, you know, speaking, planning, what we're doing is focused entirely on delivering value and really cementing both the kind, the product vision and the philosophical viability of what we're doing. And and depending on, you know, the degree to which we do that, that's going to inform our next funding round and how this team grows and expands and moves into the market. I mean, there's a lot of opportunity to go across different systems.

Andrew: (53:41)
Right now we're obviously focused within the SAP ecosystem and in the SMB space. And we will be for some time. But beyond that there's other SMB systems and then there's enterprise systems. And beyond that not necessarily in this order. There are other systems of record where we could connect into a warehouse management system, like a WMS or a CRM. Any kind of vertical siloed slice where information is, is that pertains to either the journey of an order or kind of work. We ultimately have this vision where we would sit as a subtraction layer on top of that and pull kind of the relevant information and federate that up process and analyze it and provide it in a almost spoon-feeding, you know, intuitive fashion through a really fun UI to a customer. So then they understand what's going on at any given time.

Andrew: (54:35)
They're oriented around a problem and they know what to do and they make the right decision, like I said, improve the accuracy and velocity of decision making and then they step back and watch and do it again and again. So we think this is a discipline. This is a discipline that is, we didn't invent, right? People are endeavoring to do this every day, all over the place. And what we're going to do is empower the practice of that and we're going to create a market around that. Very disciplined. So businesses like the ones run by your dad can hit that inflection point. And, you know and level up and whether it's moving deeper in or market or you know, continuing to build on existing relationships with customers and whatever that might be, you know, whatever their strategic priorities are, we aim to meet that with our technology.


So when, when you're talking about the, when it comes to the, I guess, the small and mid market space and you know, aside from a global pandemic, you know, what are the outside pressures or outside forces or barriers that could come in Chassi's way from getting into, as you know, democratizing peak performance for as many small and mid-market companies as you possibly can.

Andrew: (55:52)
Sure. So I'll tell you what we're seeing right now. So with COVID, obviously there's no, there's no the same as it was. So what you're seeing is businesses are kind of in one of a couple of camps, one camp they're seeing, they're fortunate, they're seeing a great surge on demand. And so that surge wouldn't necessitate the use of technology like ours in order to understand, all right, if your orders are going up by 30%, you know, month on month, you need to be able to have the right, you got to have, you'd be efficient and have your fulfillment operations dialed in. What we're seeing is oftentimes a lot of businesses today, they're just fighting a fire and they're like, Hey, I know I need that, but I'm just, you know, just living with the six inches in front of their face day to day. So, you know, finding the right, the right customers partner cause it's collaborative where they would, you know, assign an owner who's going to be able to step out of the craziness of the day to day due to the surge.

Andrew: (56:50)
You know, that's, that's, that's a challenge and it's not for everyone right now. On the other side you see businesses that are seeing you know, a an ad in a bit of a withdrawal and demand. And w if you fall into that category, there's really two camps. One camp is, okay, we're going to take the take advantage of the opportunity to get back to their, what they can control, right? This happened to us, let's make the most of it. So they will take the advantage of the opportunity to do things like a spring cleaning, which is like, I'm going to, you know, jump in and on an initiative like this and streamline what we can. So when we come out the other side, we're a different business. We're in a better place. The other kind of micro camp, if you will, is they're just retreating in internally and it's, it's, it's tough to see, but some businesses are just, they're just pulling back and trying to kind of ride it out. And you know, who knows where that's gonna go. But action always beats inaction and and so those who are going to be able to kinda, you know, take advantage of this, even if it is a downtime to make themselves better. And basically kind of reborn on the other side. We think they, they have a wonderful opportunity to to kind of rise from this and be a different business for the better on the other side.


Well, you've you've been really generous with your time, Andrew. I really appreciate it. I just got a couple more questions. So if, if anyone, any of our listeners, any of our subscribers, anybody watching this on YouTube or LinkedIn, if they want to connect with you, if they want to get involved with what Chassi is doing, what's the best way for them to do that?

Andrew: (58:24)
Shoot me an email, andrew@chassi.com find me on LinkedIn or get ahold of you. You know how to get ahold of me. But I'm easy to find. So you know, shoot me an email or ping me on LinkedIn. Andrews Zwarner and I would love to have a conversation with anyone. You know, we learn a great deal from these conversations. And and, and we're trying to have as many of them as possible, so I encourage people to reach out.


Awesome. So I asked this of every guest that comes on the show, what's the most rewarding thing about what you do, Andrew?

Andrew: (59:01)
Yeah. that's easy. That gets back to kinda what I was talking about earlier is, is, is solving problems is great people you know, a metaphor I can think of is like we're, cause obviously I speak a lot of metaphors. You know, we're, we're this small team and we're kind of know hacking our way through the jungle, there's no clear path in front of us. And when we come to a clearing or realize, Oh, wait a minute, we're on the right trail. You know, and the best way that that is made evident is in conversations with customers. Now the market, there's no, there's no feeling like that, you know, cause we're, we're, we're an uncharted territory. And as we make progress and we learn and evolve I mean that's a building, I mean rush that that really is similar in nature to, you know, my previous life, 10 plus years ago and it's been what it's what I've been looking for my whole life is to find a set of conditions and where that is my day every day, you know, and it's not the peak and trough, you know, between peak and trough.

Andrew: (01:00:04)
The Delta between those two are still really high. You've got great days and bad days. But there's no other, you know, doing that with wonderful people and learning from those people. You know, and, and really tough kind of circumstances where all odds are against you, the man that's, that's living. So that's, that's what I get to do every day and I enjoy it very much.


Awesome. Andrew, thanks again so much for joining us. It was awesome having you.

Andrew:
No, my pleasure. Thanks for having me.


If you'd like to suggest a guest, be a guest yourself, or if you have something to say, leave a comment below or send your message to StarTalks@StellarOneConsulting.com.