The deadline. It's a time set in stone, a point of no return.
Or is it?
Your company probably sets them, but are they stringently kept? Are they taken as seriously as the word itself implies?
The term "deadline" means "time limit," but its origin was a bit more literal.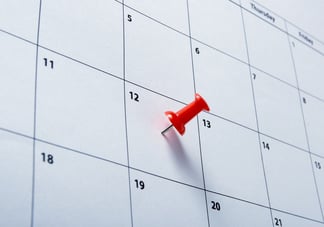 During the Civil War, a "dead-line" was literally a line you could not cross in prisons. If you did, you would get shot. Cross that line, and you were dead.
Needless to say, this boundary used to be of vital importance. The word meant business.
These days, though, deadlines get changed. They get pushed back with no consequences. They are missed, and that isn't good for your company.
What is good for your company? Serious deadlines that stick.
Here's why you should set strict deadlines and rigorously keep them.
1. A Company Deadline Is a Promise
At the bottom of its meaning, a deadline is a promise. You're promising an action by a certain time. You'll finish the work. You'll accomplish the goal. You'll hand in the completed project and move on to the next task.
The nature of promises involves a measure of trust. If you continually miss deadlines and break promises, your basic business goals will start falling apart.
2. They Keep You Moving Forward
Deadlines aren't just promises – they're also benchmarks. Saying you'll complete a goal by a certain date gives you the motivation to move forward. If the goal is hazy or the deadline is watery, will you have the same drive to meet it? Probably not.
On the other hand, if the deadline is of vital importance, you'll meet it with the same level of seriousness.
3. They Help Your Company Prioritize
Any major endeavor isn't about meeting just one goal. It's about meeting many small goals in pursuit of a larger objective.
You have to prioritize tasks in order to climb that ladder. Deadlines help you do it by defining your objectives, according to The Balance. They help your entire team determine what to do first, what can wait for later, and what is urgent. That's strategic planning for meeting your biggest, most important benchmarks for success.
Deadlines Help Your Company Climb the Success Ladder
Without a respect for company deadlines, your business can't hope to succeed. Deadlines are an essential component of staying on track, prioritizing tasks, and reaching goals. Don't ignore them or trivialize them if you want to see your company to keep improving.